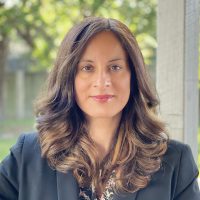 Ms Ashma Arora (LLB Hons PG Dip NMAS FDRP)
Principal Lawyer
Practice Area(s): Family Law, Wills & Estates, UK Ex-pat Law, Mediation & Collaborative Divorce.
Qualifications, Memberships & Affiliations
Admitted Solicitor of the Queensland Supreme Court of Australia
Admitted Solicitor of the High Court of Australia
Admitted Solicitor of England & Wales
Nationally Accredited Mediator (NMAS)
Accredited Family Dispute Resolution Practitioner by the Department of the Federal Attorney General
Member of the Queensland Association of Collaborative Practitioners
Member of the Queensland Law Society
Member of the Law Society of England & Wales
Member of the Family Lawyers Practitioners Association
Member of Family Law Council
Member of Family Law Pathway
Ashma was admitted as a Solicitor in 1998 in England & Wales and began her legal career in a general practice firm in London. Working in the areas of family, litigation, wills and estates, Ashma developed an excellent reputation, with her clients and the legal community. She went on to establish her own law practice in partnership from 2001 – 2013. From successfully running her law firm, the lure of sunnier climes and a relaxed lifestyle bought Ashma to Australia.
Ashma's desire to continue helping individuals navigate the family law system resulted in her requalifying as a Collaborative Solicitor, Mediator and accredited Family Dispute Resolution Practitioner. Ashma continued to problem solve and achieve positive outcomes for her clients while working for Brisbane based law firms, and as Mediator with Queensland Civil Administrative Tribunal.
Ashma firmly believes that a court process is an option of last resort. She has advanced negotiation skills and can bring matters to a swift close, with minimum cost and stress. Astute negotiation skills often lead to sensible and cost-effective outcomes at the earliest possible stage. Where court proceedings are necessary, Ashma robustly advocates on behalf of her clients.
Ashma has extensive experience working with families, from various socio-economic and cultural backgrounds. From dealing with modest to high net worth cases, she understands that this is often an emotional and challenging time. Ashma ensures that her clients are put at ease, from the moment they get in touch – offering clear, practical and timely advice.
As an experienced Solicitor in Australia and England, Ashma is uniquely placed to assist UK ex-pats and Australians that continue to have personal or financial ties with the UK. Getting legal advice from a lawyer with knowledge of both jurisdictions is invaluable, where family law and estate planning issues arise.
Speak to us for your free 15-minute consult